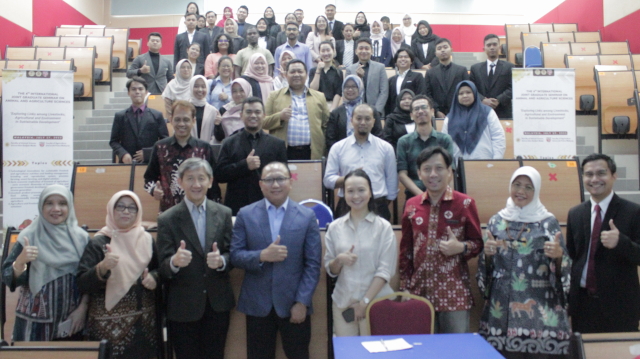 Graduate Students of Faculty of Animal Science UGM took part in The 4th International Joint Graduate Seminar in Malaysia on July 17, 2023. The International Joint Graduate Seminar or IJGS is an annual program held by the Graduate program of Faculty of Animal Science UGM). IJGS has been running for four years and in 2023 it is collaborating with Universiti Putra Malaysia (UPM) for the second time. The 4th IJGS 2023 was attended by UGM and UPM participants with a total of 43 participants.
The 4th IJGS 2023 was opened with remarks by Prof. Lho Teck Chwen as Dean Faculty of Agriculture UPM. In his remarks, he conveyed the potential for this IJGS activity. "Seminar is a good activity in exchanging information about innovative research topics. In addition, the future potential can attract sponsorship to support the smooth running of further activities. Also, university collaboration fosters a good academic environment," said Prof. Chwen.
Prof. Budi Guntoro, as the Dean of the UGM Faculty of Animal Husbandry, expressed his gratitude for the remarks and activity facilities that were well prepared by UPM. "IJGS is an agenda that is very useful in updating new knowledge in agriculture and animal husbandry. Thank you very much to the UPM Lecturers and Students for their facilities and participation during the IJGS activity and I hope that the collaboration between UGM and UPM will continue in the development of agricultural and livestock innovations that mutually support one another," said Prof. Budi Guntoro.
The 4th IJGS 2023 activities were in the form of oral and poster presentations. The oral presentation participants consisted of 24 participants from UGM and UPM divided into 2 sessions. The oral presentation was carried out sequentially for 120 minutes. Not only oral presentations, poster presentations were part of The 4th IJGS 2023 activities. A total of 19 poster participants made presentations in front. Poster presentations were carried out sequentially in 1 room for 60 minutes.
The 4th IJGS 2023 activity was closed with the announcement of the best oral and poster presentation nominations. "The international seminar held by UGM and UPM is a very fun and useful activity in exchanging information, research and research object terms such as "orok-orok" (type of cow sound) this is an additional scientific development that can be discussed further, and all participants of The 4th IJGS 2023 who come to UPM can enjoy tourism and culinary delights in Malaysia," said Associate Prof. Dr. Henny Akit as Head of Department in her closing remark. (Secretariat/Prisil)