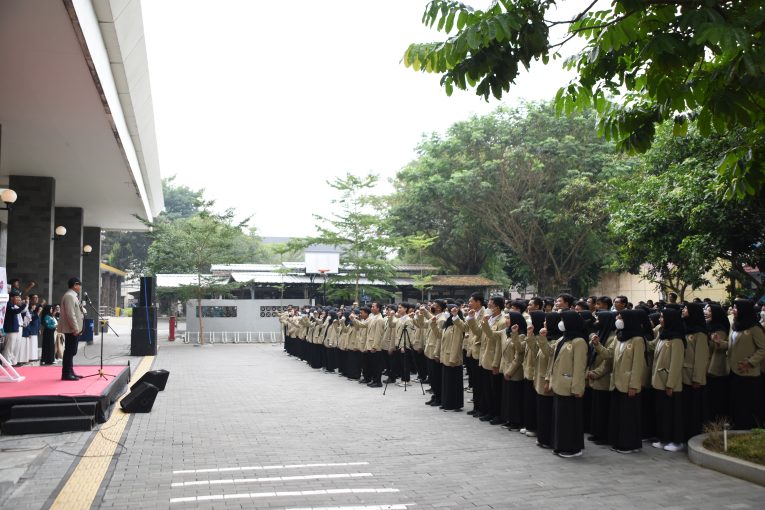 As part of a series of UGM Inauguration (PPSMB) activities, the Faculty of Animal Science UGM hold Pioneer Inauguration of Rancher 2023 which lasts for 2 days on 2-3 August 2023. Successful Learner Training for Freshmen or better known as PPSMB is an activity Official campus orientation and introduction for new students at UGM. With the theme "Young Rancher Synergy with Critical and Adaptive Character, Towards Dynamic Global Development" as many as 309 new students of the Faculty of Animal Science class of 2023 participated in a series of activities for two days with great enthusiasm.
In his remarks, the Dean Faculty of Animal Science UGM conveyed the importance of socializing while being a student. "All facilities at the Faculty of Animal Science are used to support studies, so please take advantage of them. Socializing and organizing are also important, so don't just study in college, but also build a network of friends through student activities or organizations. That will provide benefits in the future," said Prof. Ir. Budi Guntoro, S.Pt., M.Sc., Ph.D., IPU., ASEAN Eng.
Also attending the PPSMB Pioneer Rancher 2023 activity, Deputy Governor of West Sumatra, Dr. Ir. Audy Joinaldy, S.Pt., M.Sc., M.M., IPM, ASEAN. Eng. as a source person who delivered material about poultrypreneur and distributed his books to selected students. Also present as a speaker, Mr. Agung Budiyanto from PT Charoen Pokphand Indonesia Tbk.
Through this series of Pioneer Inauguration of Rancher 2023 activities, it is expected that the new students of Faculty of Animal Science UGM will become more familiar with their campus so that they can assist in future lectures. (Secretariat/Prisil)